Vidyarthi book
Economic anthropology envisages economic activities of man in his social cultural framework. Vidyarthi 1976

economic Anthropology deals with primary economic aspects of social relations. Raymond firth 1951.

Vidyarthi 1976. 9 features of tribal economy in India
Forest based economy. Chenchus

Unit of production is family. Division of labour based on age and gender. Nat family presents The show and children play music.

Simple Technology. Siali rope by hand.

Absence of profit in economic dealings

Community as cooperative unit

Gift and ceremonial exchange. Reciprocity in dhumkuria. Balanced reciprocity in kotas and todas. Herskovitz

Periodic markets. Bastar market.

Interdependence. Kotas todas badaga kurumba

Economic institution of dhangar. Help each other in agriculture. Bonga system in tharus.
Types
Forest hunting type. Gathering hunting fishing. Small band. Minor forest produce rope bamboo honey. Implements used digging sticks bamboo knives baskets. Traps for monkeys and rabbits. Division of labour women gather. Juang worship weapons

Hill cultivation type. Slash and burn. Terrace cultivation. Hoe and burn. Khallu in santhal. Site selection worshipping. Cutting forest. Fire. Sowing seeds. Weeding. Protection. Harvest. Worship and celebrate.

Plain agriculture. Mostly now casual labours. Bistang chilli. Cattle wealth. Also include ploughing worshipping harvesting celebrating worshipping

Simone artisan. Work with wood metal textile. Siali Mankadias. Lohars. Use hammer knife even stone tools.

Pastoral. Bakarwal. Todas. Sacred buffaloes. Man engage in milk production.

Folk artisan. Acrobatics music dancing snake charming. Nats. Ojhas.

Labour. Agricultural and non agricultural. Recently Rising. Displacement mining land in Asia. Oraon

Skilled white collar. Due to reservation. Meenas. Traders - bhotiyas.
Social organisation. Influence by natural environment. Population. Humans. Material technology. Social environment.
Pritchard. Social structure is interrelations of groups explicitly excluding interpersonal relations

Leach. social structure consists of ideas about distribution of power between persons or group of persons.

Firth. social organisation is the way in which things get done over a period of time in a community.

Structure. Family. Lineage. Sub Clan. Village group. Clan. Phratry. Moeity. Subtribe. Tribe

Moeity. Chungli. Kilo onthala.

Tribe is social group with features. Define territory. Common name. Common dialect. Culture. Behaviour of endogamous group. Taboo common. Distinctive social and political systems. Faith in the leaders. Self-sufficiency in economy.

Redfield define strive as distinctive. Small. Homogeneous and self sufficient.

Moeity. When a tribe is divided into only two groups for its social activity. Maybe exogamous agamous, and rarely endogamous. Relationship of marriage power role economic relation pride and rivalry.

Phratry. Clans unite to create phratry. Vidyarthi 1976.

Clan. exams division of a tribe the members of which are related to one another by some common ties - different from common ancestors, common totem or habitation of common territory.

Sub clan when a clan expands and breaks with new traits.

Lineage. Hoebel. lineage is an extended unilateral kinship group descended from unknown founder or common ancestor who lived 5 aur 6 generation back. Real person not mythological.

Murdoch. Family is a social group characterized by common residence, economic cooperation and reproduction. It includes adults of both genders at least two of home maintain socially approved sexual relationship and one or more children - own or adopted - of the sexually inhabiting adults.

Patrilocal. Bhumij. Santhal

Patriarchy. Bhumij. Santhal.

Double decent. Dasama kacharis

Matrifocal. Nayars. Kalpeni

Joint family. Rural Hindus
Political life
Village head. Religious head.

tribal have demarcated directory and United by kinship marriage and individual contact.

Social control by village community. Impose sanctions. Discuss conduct. Moral pressure point public disapproval.

Political organisation based on.

Lineage or clan. Pipa in kukis

Village as a unit. Maler manjhi

Territory. Kumars have kurha chief.

Oath. Maler. Touching the knife before jhanda gossaiyan. I will die if I tell a lie

Ordeal. Saveli in maler. Licking red hot axe.

Concept behind punishment. To compensate. Verify your fender. Reintegrate the offender. About forgetting the past.

Tribal law depends on agnatic relationship clan and lineage.

Nearby villages main take part.

Social custom is the basis of law.

Do not differentiate between public and private crime

Evidence by oath and ordeal

Punishment by fine compensation feast

Punishment given by supernatural.

Based on nature man spirit complex.

Council of elders. Temporary council for minor quarrels. Jats. Tharus.

Village headman. Mahto in oraon. Also link with government.

Village panchayat. Ao nagas. Tatar menden.

Union of villages. Paraha in chota Nagpur. Conflict with grampanchayat rstv 2016. Settle disputes between villages communal disputes. Incest. Witchcraft.

Tribal chief. Naga chief. used to be hereditary and Supreme judicial authority but now declining.

Changes bhai British rule. Chhota Nagpur tribal leaders lost legitimacy.

Change by Christian missionaries. Rift between Christians and non Christians

post independence changes by panchayati Raj. Community development programme. Education. Elections. Police middleman judiciary. District councils.

But in 6 schedule areas tribes marginalised.

Organising to aadivasi mahasabha.

Recently Jay aadivasi Yuva Shakti. Jharkhand party.

New political leaders image engaged with democratic setup. Tharus now have gram adalat.

Classification of leaders

Formal mahto and informal.

Attributes. Ideal, institutional, benevolent, socially privileged.

Function point traditional leaders and modern leaders.

Village leaders. Sub regional. Regional Jaipal Munda. Urban leaders rijiju.
Religion.
Myth is is regarded as representing metaphorically a world view and insight into life. It guides religious mines of tribals and gives sanction to the activities. It explains animals and natural events as actions of supernatural.

Saora believe kittung is creator of earth and man.

Mundas. Sing bonga brooded over water and tortoise were the first animals then crabs.

Sacred complex of tribals with geography specialists performance and spirits.
Types
Bongaism. Mundas n Ho. the power that gives life to all animals and plants the power that provides all space.

Naturalism. Worship of nature likes and moon are which are considered as creator or Supreme Power. Bhumij sun god.

Totemism. Kilo onthala. Parang porja.

Taboo. Negative custom. Violation may result in disaster.kharia women cannot touch the roof of a house

Magic coin Munda rolling stones for rain.

Polytheism. Maler spirits.

Types of spirit. Protective dessauli in Ho. Benevolent. Malevolent and ancestor.
Secret geography. River forest ponds waterfall. Household and around the village.
Secret areas. Hill river stream.

Secret centres. Maler chal gossaiyan in sacred grove.
Sacred specialists.
Kando manjhi in maler. Chosen by spirits.
Sacred performances.
Oath and ordeal, for vows. Jhad phook.

Festivals. Bandana festival of santhals.
Tharus call themselves as Kshatriya as point shrivtastav 1958.
Manjhi caste in mundas.
Oraon stop believing in Ghost spirits and did not eat beef and clean habits. Also wear sacred thread. Sc roy 1928.
Oraon 20th century. Bhakti cult. Rejected old spirits because they were powerless and protecting them against troubles. Reformed the kurukh dharm. Modified old customs related with birth marriage and death. Under jatru bhagat. Sachidanand 1964.
Christianity. Majumdar. Where tribals are in compact groups and superior number the tribal organisation has remain strong and conversion to Christianity is not much.
Church mandi under guidance of local priest.
Sahay 1963. 5 cultural processes on the impact of Christianity. Oscillation. Scrutiny. Combination. Indigenization. Retroversion.
Course of life.
Prenatal ceremony. Gaddi woman set aside necklace and 4 copper coins for spirits. Ao naga mothers cannot eat chillies and tortoise. Taboo.

Birth. Ao naga. Presence of father at the time of birth is must because mother is supported by husband and mother during childbirth. Real lobes of the child appears on the second day and on third day name of some and sister is given. Family is in a state of pollution for five or six days.

Rituals at birth. Sacrifice egg or a fowl.

Boy and girl join the youth dormitory. Morung naga. Dhumkuria oraon. Koddada maler

Understand culture sexuality relationship corporation responsibility. Various games for training exchange of ideas.

Puberty. discard the line cloth. Increase responsibility. Higher status. Relationships with girls.

Bandana festival of Santhal person can choose any partner for sexual act.

Marriage. Ways of acquiring mates.. diku andi marriage by Hindu rites.

Preferential marriage. Cross cousin marriage in khasi oraon gonds.

Paternal cross cousin in mala karavans.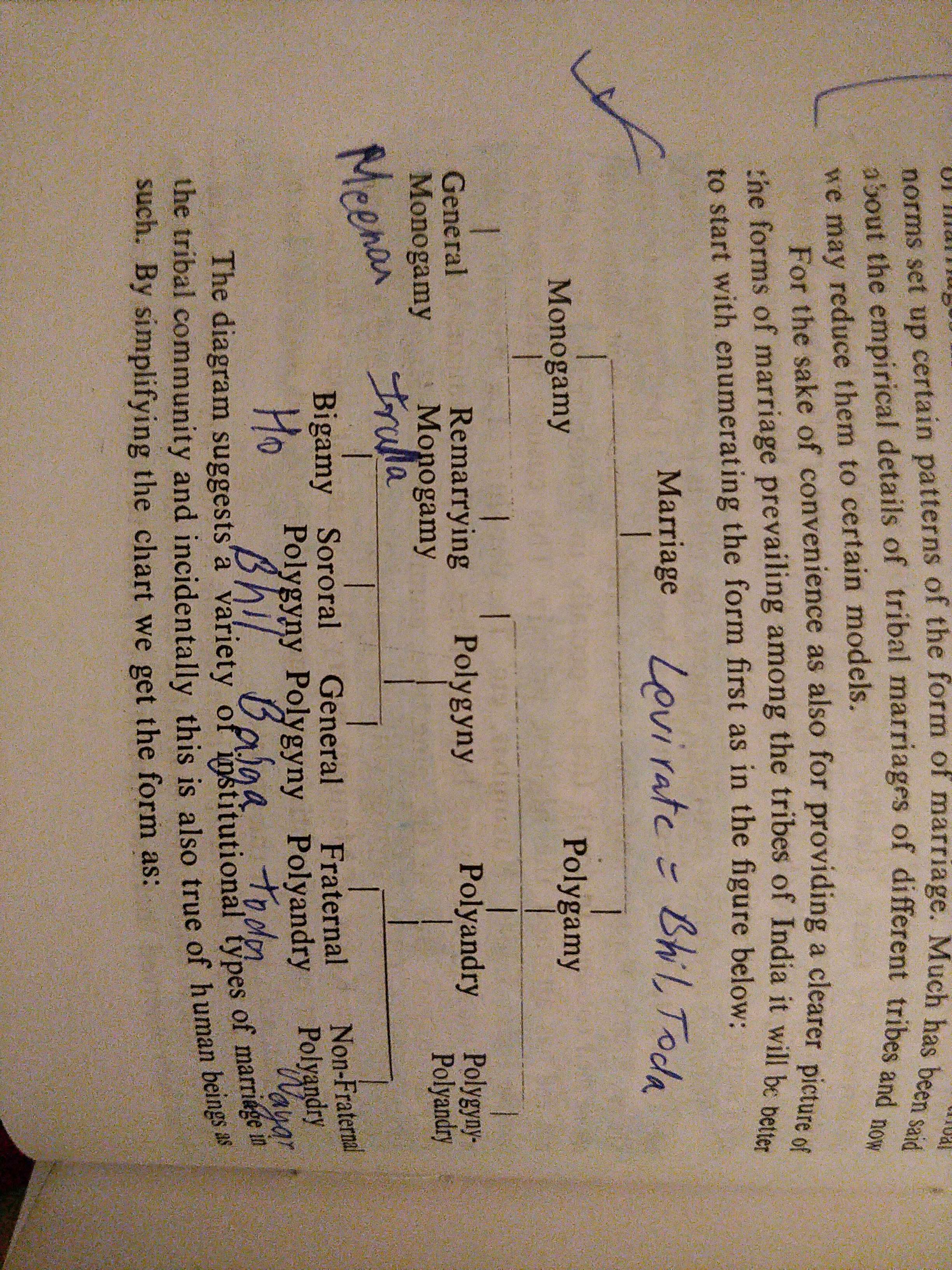 Death. Mishimis do not more death and feast is offered for the soul.
Folklore. Myth, legends, tales, riddles, dances, music. Studies in 1886 Indian antiquary. Asiatic Society of Bengal 1774 started bringing about folk song and folk tales. Journal of metric society from Bangalore. Man in India from Ranchi. 1868 at the old Deccan days by Merre.
Sengupta 1915 emphasized introduction of folklore studies. Scientific study. Adopted at Ranchi University.

Relevance. brings out social economic political and religious attitudes. Useful for comparative study. Can be oral literature. Magic and dance. Art and dancing. Archaeology and prehistory useful. Roy study.

Functionalism of folklore. Teaching point explanation of phenomena. It serves as a warrant and often a practical guide tu magic ceremony ritual and social structure as per malinowski. Bring conformity. Permitting social action.

Lightning is beautiful star girl running across the sky as per mishimi. Oraon- Thousand moons in the pond - water lily.

Dances. Seraikela chauu of Ho. War dance nagas martial dance. Sacred dance. Social dance bihu. Marriage dance santhal sword dance. Funeral dance badagas.
Settlement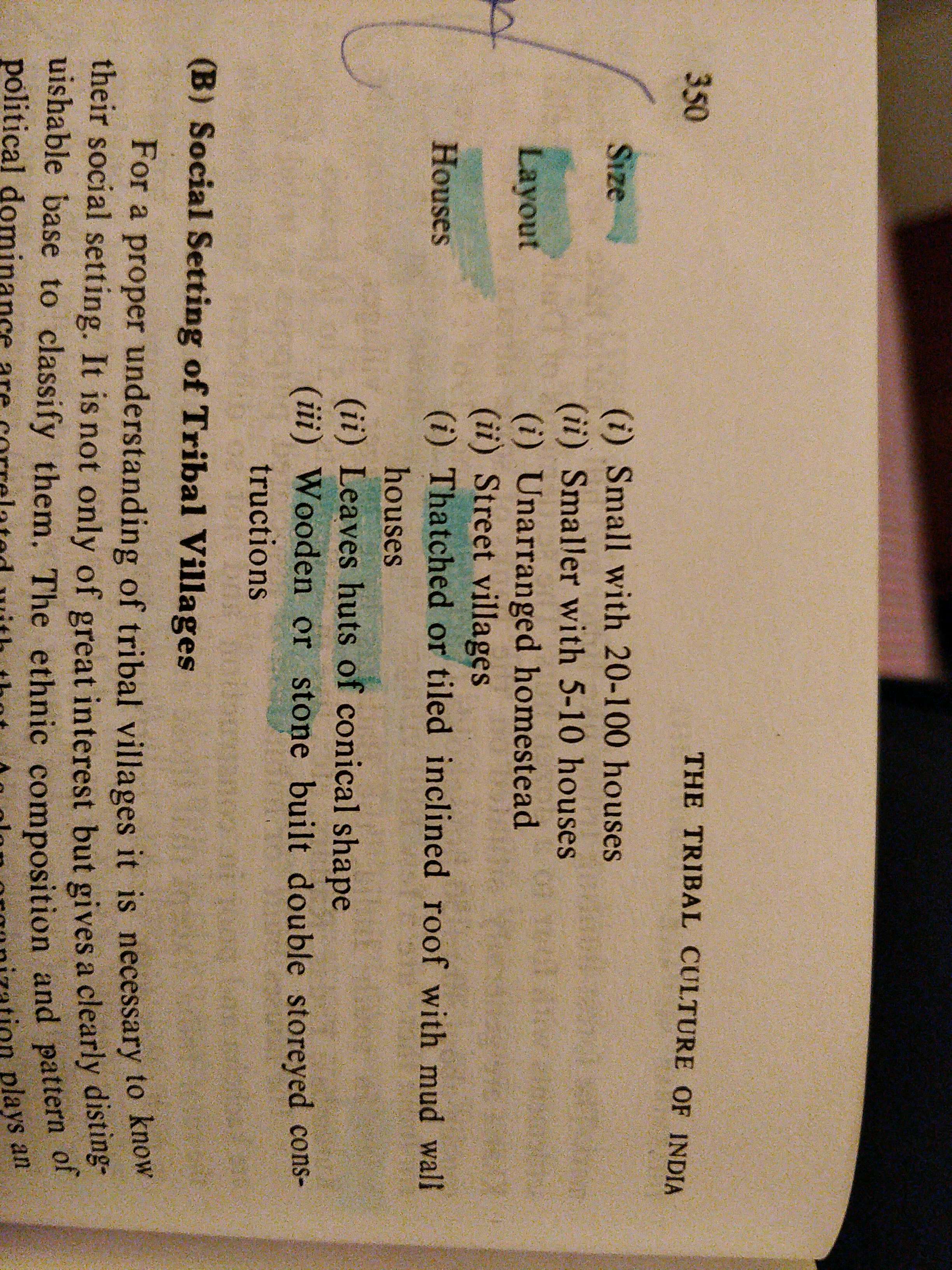 Can be mixed or completely tribal villages.
village organisations. Use dormitory. Burial ground. Traditional panchayat. Statutory Panchayat.
Shrinivas. Inter village linkages with festivals marriage pilgrimage economic relations market regional panchayat historical relations.
Matrilinity in India
Traces in Tharu, santgals.

Female property inheritance

Matrilinity. Polyandry. Prominent position of mother's brother. Sexual freedom of girls. Puberty rites. Cross cousin marriages. Couvade

Female goddesses and ancestors. Female temple servants priestess aur dancing girls. Fecundity charms. Double burial.

found in Kerala. Lakshadweep. Meghalaya. Garo khasi pulayans.

One female ancestor traced.

Grandmother with her daughters and daughters children. She is the head of house. Youngest daughter gets the property. All daughters have responsibility to the youngest sister. Serious crime makes the youngest daughter lose her privileges. Only if there is no daughter property will go to the sons.

High priestess. Role of mother's brother

Double burial. First the body is burnt by maternal relations and then bones are collected.
Polyandry
Todas trace to pandavs. Khasas have festival in honour of Pandavas.

Eldest brother represents the family. Sayana

Recently otherwise may also join. So polygynadrous

Patriarchy but receives advice from brothers.

Children are common to all brothers. But eldest brother is social father.

Sayani is the first wife and has special privileges. Caretaker of all otherwise.

inheritance and division of family property is concern of village council. Women is not entitled to the property but her father and brothers keypad door open for her

Ryanti dhyanti. Dhyanti is free E and liberal at her personal home. Even child birth from parents village will be accepted but not an affair in the husband village.

Jio economic cause. Hardship of work. Hilly based economy. Preserving the property. Limited resources.

Interpersonal jealousy is virtually absent. Wife has to satisfy all her husband's and more workload.

There institutions of village council have come in conflict with gram sabha and gram Panchayat recently.